Smart Informatics House
In the world of informatics #90 (16-30 April)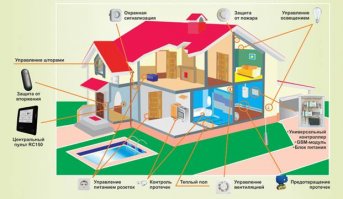 In the world of informatics #90 (16-30 April).
Planet " Jellyfish "
What is this?
As you know, at present, electronic devices are used very and very extensively in calculators, computers, telephones, cars, aircraft, spacecraft, toys, etc. Do you know they're used to manage premises?
Electronic systems used for this can be divided into two categories. The first is building management systems. In general, these systems are centrally managed and used in large industrial buildings or large offices. The main purpose of these systems is to manage life support systems (heating, conditioning, safety, etc.).
In general terms, the system works as follows. A large number of sensors are connected to the central computer, which collect different information, ranging from the temperature on the street and inside the premises to the air speed in the ventilation mine. Following the survey of these sensors, the system analyses the situation and makes a decision, depending on the facilities assigned to it by the operator.
In the event of accidents, the operator sees the scene of the accident on the screen and knows where to send the repair team.
In the case of one of the boilers, the system automatically connects the back-up kit and shuts down the gas supply to the emergency, even though the operator may be wrong. Only the benefits listed make the system profitable investment. But that's not all, the system's gonna pay itself for the energy savings it provides. For example, if the winter on the street is warmer, the reduction of heat intensity will significantly reduce costs, and if the system is programmed to turn off the heating on the night when there is no one in the office, and it turns closer to the morning so that the air can warm up, the savings will be visible at almost immediately.
The use of such systems reduces the number of service personnel, as a single operator is sufficient to monitor the entire complex, who, while close to the computer manager, will monitor the system.
Like any other, the system also has its shortcomings. The number of devices connected cannot be increased indefinitely, as the speed of the system is a critical factor. In addition to increasing the number of devices, the system ' s overall productivity is becoming more complex, so the data are also declining. ♪ ♪
You might also like:
Умный дом. Урок 2. Система "Умный дом" и управляющие элементы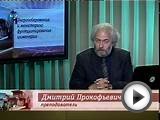 Умный дом. Урок 8. Энергосбережение и мониторинг ...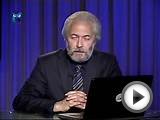 Умный дом. Урок 6. Мультифункциональное домашнее рабочее ...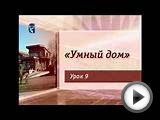 Умный дом. Урок 9. Информационная и пассивная безопасность
Related posts: